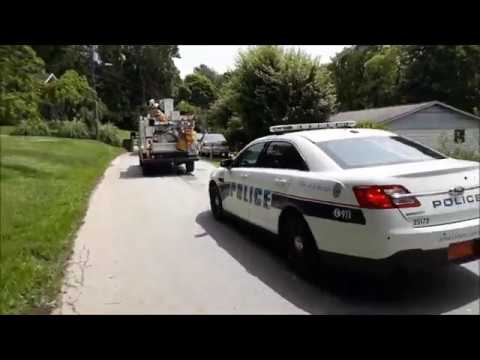 Posted by Citizens for Safe Metering:
4 Asheville NC Houses Have Their Power Shut Off June 28th, 2018
We never imagined this would happen. After months of sending correspondence and expressing with notarized documentation our request for the power company's compliance to provide a safe meter, and our intent to pay in full every month, to communicate openly with them, to be in agreement with all of their requirements as long as we were not subjugated to a harmful radiation emitting digital meter, and following the clear legal steps to assure we had a safe meter, they chose to abruptly cut our power. We hope this can be resolved. We invite everyone to get involved, get educated, spread the word, share this and share with your communities that now is the time to stand together. As well, donations are deeply appreciated at this time as we have already spent much more than has come in to address the needs at our four houses to provide essential power. We have basically no time to do anything other than deal with this situation on many levels and all that it has impacted in our lives. We need generators, batteries, inverters, extension cords, replacing rotten food, doctors and lawyers fees, and general expenses since many of us are self-employed and had to put our work on the side. Thank you!
https://www.paypal.me/safemeters (click URL)
And our GoFundMe fundraiser: https://bit.ly/2KSNoqT
UPDATE:
It's day 6 without power. It is hot. We have no A/C, and in order to power our refrigerators we need to burn a lot of gas in the generator we are borrowing. The other houses have purchased a generator with some of the donations we have received. There are so many things to be done, so many challenging moments and somewhat overwhelming situations due to the circumstances, and basic essentials all require more time and energy to figure out. Our lives have been put on hold, but we are persevering with strength and determination, and we are sincerely hoping this video will ignite a spark in those who feel this should not be happening, or to bring awareness to those that didn't know. We deserve to protect our health and our dignity and our privacy, all of us! There is much evidence and scientific research about Smart Meters and many forms of wireless radiation we are subjugated to more and more. Get educated, tell everyone what is happening, and resolve to make the change in yourself, and to work together for what is right. If you are in Asheville, please consider creating a group of your friends and community to come together and hold a solidarity towards a powerful outcome which will protect us all, and if you're elsewhere, do the same in your community.